Diagnostic Goods and Services (Lot 1)
Research and Development Goods (Lot 2)
NEWCASTLE UPON TYNE, UK, 08 June 2021. QuantuMDx has been successful in both Public Health England ('PHE') tenders the Company applied for. QuantuMDx will be included in the Framework Agreements under PHE's National Microbiology Framework for Lot 1 (Diagnostic Goods and Services) and Lot 2 (Research and Development Goods).
Under Lot 1 of the Framework Agreement, QuantuMDx is now able to sell its SARS-CoV-2 RT-PCR Detection Assay for laboratories, as well as Q-POC™, its rapid, PCR point of care diagnostic system. Lot 2 will enable QuantuMDx to sell its Q-POC™ SARS-CoV-2 Assay, when the system is launched later this year.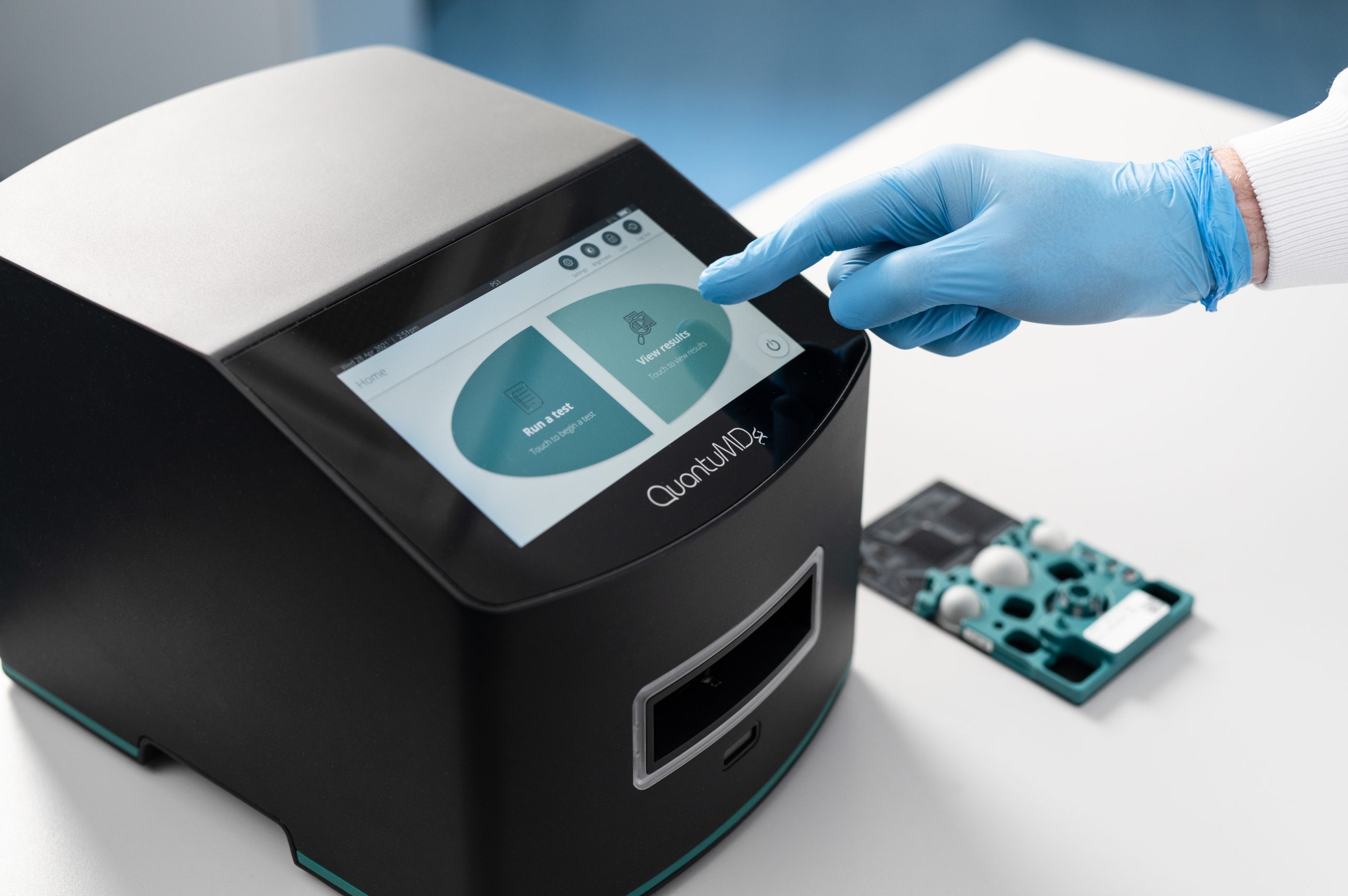 The term of the Framework Agreement for Lot 1 is for an initial two years with options to extend by up to a further two years. Lot 1 is a £3bn tender to be satisfied by multiple successful bidders. Similarly, Lot 2 is a £1.5bn framework to be satisfied over two years by multiple successful bidders.
Jonathan O'Halloran, Chief Executive, QuantuMDx, said: "I am very pleased that QuantuMDx has been successful in its tender to be included in both PHE Framework Agreements we applied for, validating the potential of our rapid point of care molecular diagnostic system, Q-POC™, and accompanying SARS-CoV-2 test. The COVID-19 crisis has highlighted the need for a robust testing infrastructure and this framework will support the UK's testing strategy now and in the future.
"This award is testament to the high quality and hard work of the whole QuantuMDx team and we are equally proud to support the PHE, NHS and Department of Health and Social Care ('DHSC') as the UK scales its testing capabilities to a world leading level."
The award of a framework contract is not exclusive to QuantuMDx, nor a guarantee of orders. It does, however, allow participating authorities to issue call-off orders for products and testing services in the future.
About QuantuMDx:
QuantuMDx is a progressive MedTech company passionate about empowering the world to control disease and reduce suffering. QuantuMDx solves real-world diagnostic problems by creating multiplex molecular solutions for the Point of Care, for anyone, anywhere.
QuantuMDx has global operations and strategic partnerships – keeping it at the forefront of molecular diagnostics.
Q-POC™ is a rapid, simple to use, portable, sample to answer PCR device and has been designed for use in a wide range of settings, such as hospitals, clinics, pharmacies, and workplace testing providing accurate PCR results at the Point of Care. Q-POC™ and its first test, a SARS-CoV-2 multiplex detection assay, are CE-IVD marked under the In Vitro Diagnostics Directive (98/79/EC), enabling use within Europe. It tests multiple targets of the disease for a future proof COVID-19 testing solution at the Point of Care.
QuantuMDx plans to launch a range of syndromic multiplex testing assays over the coming months and years.
For more information about QuantuMDx and Q-POC™, its rapid PCR point of care system, go to: www.quantumdx.com
For media enquiries:
Debra Daglish, Marketing Communications Manager, QuantuMDx Group
Chris Gardner, Matthew Neal and Lindsey Neville, Consilium Strategic Communications, 0203 709 5700/ quantumdx@consilium-comms.com
For investor enquiries:
Financial Adviser: WG Partners LLP; David Wilson (020 3705 9315), Nigel Barnes (020 3705 9318), Claes Spång (020 3705 9317)
For more information:
Please email info@quantumdx.com